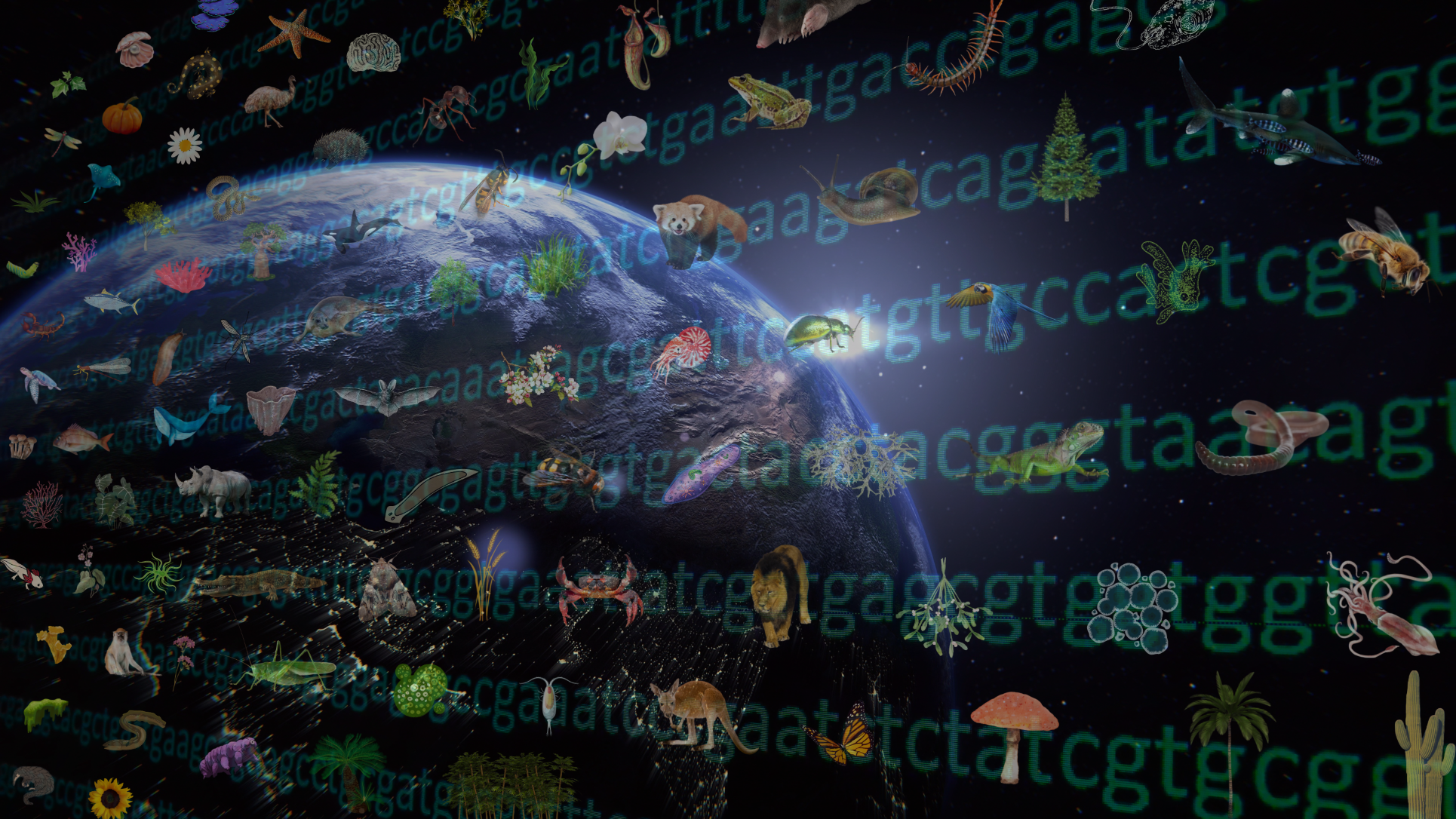 Biodiversity Genomics event returns for third year, as dynamic new scientific field grows globally
You can REGISTER HERE to attend Biodiversity Genomics 2022.
---
How can we protect red squirrels in Scotland? What about palms in South Asia, or critically endangered newts in Spain? How did the social behaviours of ants evolve? Or the malaria-causing parasite Plasmodium in Africa? Can we boost cultivation of key Latin American crops such as pumpkin and agave? Is a flourishing bioecomony just a dream in countries like Colombia, or a real possibility? How can we democratise genomics for everyone, everywhere?
Biodiversity Genomics 2022 will hear from genomics researchers across the globe who are already hitting upon the answers to these diverse questions. Much of this work is carried out in lockstep with the Earth BioGenome Project, an initiative aimed at sequencing the genomes of every species of plant, animal, fungus and protist on Earth.
"The overall goal here is to connect the biodiversity genomics community across the planet," explains Camila Mazzoni, an organiser of BG22 and chair of the European Reference Genome Atlas. "At this event, people can exchange knowledge and discuss challenges, and explore how we can use genomic data to face the biodiversity crisis."
"Thanks to this integrated global community we can take full advantage of recent advancements in genomic technology and bring them into action much faster, helping reverse biodiversity loss," adds Mazzoni, who researches evolutionary and conservation genomics at the Leibniz Institute for Zoo and Wildlife in Berlin, Germany.
Sharing advancements, from technology to techniques
Indeed, the rapid growth of the biodiversity genomics community is matched by the advancements of the technology and techniques they use.
Speakers at BG22 will focus on this surging innovation. They will look at how DNA barcoding allows us to efficiently and accurately identify insect species in the field. They will show how new software and more automation has helped sequence, assemble and openly publish more and better genomes.
This is also a chance to reflect on breakthrough technologies, such as high fidelity genome sequencing, and ask: what have we been missing until now, and what can we learn in the future?
"BG22 offers a uniquely global perspective with presentations on the most advanced sequencing and bioinformatics tools to describe genomes," says Adelaide Rhodes, who analyses this "big data" at Tufts University, Massachusetts and is a member of the Global Invertebrate Genomics Alliance. "This is a call to action by scientists to study and preserve organisms that not only support economies around the world but also bring beauty to our lives."
For everybody, all around the world
The global nature of BG22 has never been stronger, with insights from the Philippines to France, and Cameroon to Canada.
The fully virtual format was initially forced by the Covid-19 pandemic, but has persisted as the pandemic waned. In order to facilitate seamless participation from all continents, this year's event will also run two "around the world" live days stretching over 14 hours and focusing on actions and science from different regions in turn.
"Traditionally, attending a conference was associated with travel to an exotic destination for a number of days. This always provided a wonderful networking opportunity for all cadres of scientists, be they early career or for established scientists," says Anne Muigai, Professor of Genetics at the Jomo Kenyatta University of Agriculture and Technology in Kenya.
"However, for the majority of scientists from developing countries, and specifically Africa, this meant having a few stressful weeks applying for travel grants and for visas, which were not always guaranteed."
"These Biodiversity Genomics events have provided a free and open platform for scientists from across the globe to meet and interact from the comfort of their homes," says Muigai, Chair of the Africa BioGenome Project. "This has enabled the advancement of genomics in regions that would, in other worlds, have been left out."
Free, open, inclusive
Inclusivity is at the heart of the event, which is free and open to all, thanks to support from the Wellcome Sanger Institute's Tree of Life Programme and corporate sponsors such as the biotechnology company PacBio.
This push for inclusion is not merely geographical, but also demographic. Early careers research is the focus of several sessions, and indeed early careers researchers make up a significant portion of speakers.
'JEDI' sessions will also be a prominent part of the event agenda, the acronym referencing the four key aims of justice, equity, diversity and inclusion. These sessions, and their dedicated committee, explore ways to ensure that members of groups which may have historically been excluded from genomics are included, empowered and encouraged to lead the field into the future.
"BG22 is a marvellous opportunity for all scientists around the world to get together and share the genomic tools," says Giulio Formenti is a postdoctoral researcher at the Rockefeller University in New York, who is also a member of the Vertebrate Genomes Project and ERGA. "This will help us address one of the the greatest challenges of our time: understand, preserve and restore biodiversity."
---
Biodiversity Genomics 2022 will take place online between October 3rd and 7th. Registration is free and open to all. You can register and find out more about the format and event sessions at this link: https://virtual.venue-av.co.uk/e/bg2022