Borders Forest Trust: Butterflies, bryophytes and barcoding on the Scottish Borders
The sheer scale and ambition of the Darwin Tree of Life naturally creates collaborations with an exciting range and diversity of organisations. One of the most inspiring we are working with is the Borders Forest Trust (BFT), based in the uplands of the Scottish Borders.
The Borders Forest Trust manages a landscape-scale restoration project aiming to revive the wild heart of southern Scotland. True pioneers of the restoration movement, BFT began planting trees and restoring deciduous upland woodland in Carrifran Wildwood at the turn of the millennium.
More than twenty years on and Carrifran Wildwood stands as a powerful testament for ecological restoration. BFT now owns around 3,100 hectares and works towards linking up and restoring multiple habitats including woodland, montane scrub, and peatland.
It began with butterflies
Darwin Tree of Life interactions with BFT can be traced back to the earliest stages of species sampling for the project. In 2019 the University of Edinburgh's Lohse lab group collected nine butterfly species at BFT's Carrifran Wildwood as part of the pilot stages of DToL. These butterflies included the Ringlet (Aphantopus hyperantus), which became our earliest invertebrate genome.
Each of those original nine butterflies collected now have complete, published reference genomes, freely available for anyone to use.
---
| | | |
| --- | --- | --- |
| Small Tortoiseshell | Orange-tip | Ringlet |
| Small Pearl-bordered Fritillary | Scotch Argus | Large Skipper |
| Green-veined White | Red Admiral | Painted Lady |
What has DToL been sampling at BFT sites?
Darwin Tree of Life sampling at BFT has focused on two main groups of species, bryophytes and invertebrates, and provides a great example of the collaborative nature of the Darwin Tree of Life project.
Invertebrate sampling is coordinated from a base at the University of Edinburgh, but has involved a broad spectrum of contributors – from DToL project partners such as the Natural History Museum in London, to organisations and groups closer to home, such as National Museums Scotland and the Edinburgh Entomology Club.
Bryophyte collections are led by the Royal Botanic Garden Edinburgh. RBGE is also leading a DToL public engagement initiative in collaboration with BFT which aims to understand the genomic basis of disease resistance in Wych Elms.
Invertebrates
From sweep netting in regenerated woodlands to moth trapping on the hill tops, 74 different invertebrate species have been collected at BFT sites and processed for genome sequencing.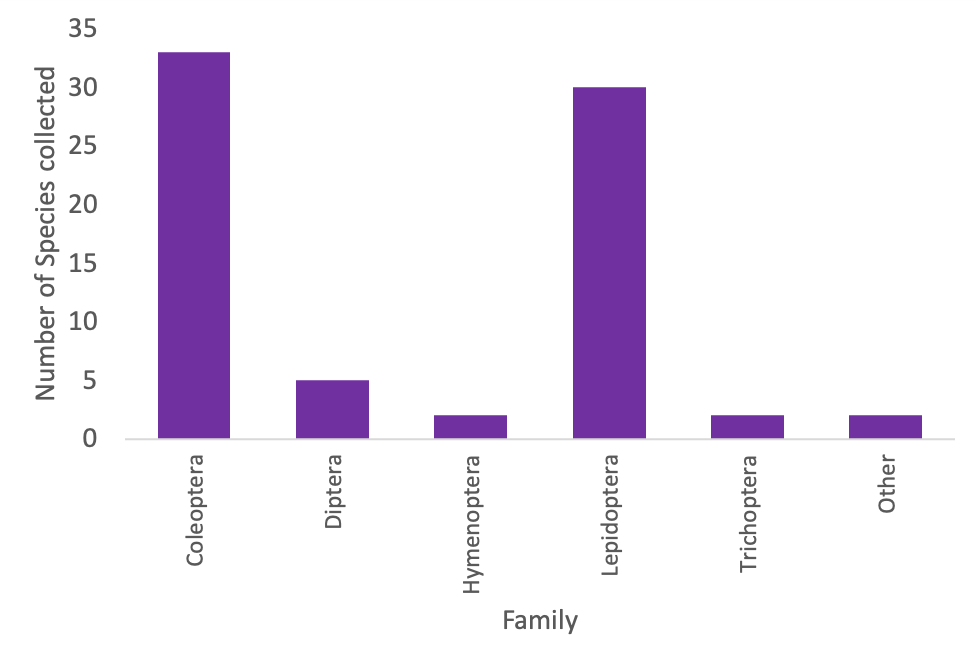 Some of the species highlights are a false blister beetle (Oedemera virescens) and the Blaeberry Bumblebee (Bombus monticola).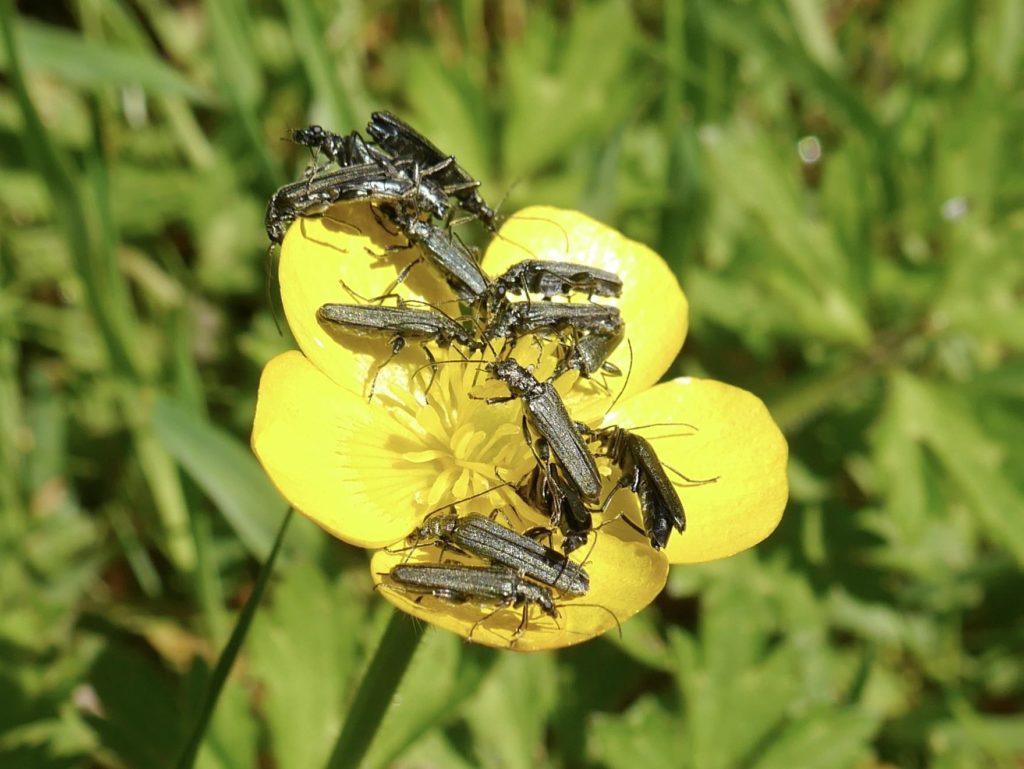 Oedemera virescens, one of 30 different Coleoptera species collected at BFT sites, has an interesting status. Until relatively recently this species was a UK Red Data Book species, thought to be more or less restricted to North-East England. Now, with notable records in southern Scotland, the species is recognised as more widespread and appears to be expanding in range and abundance.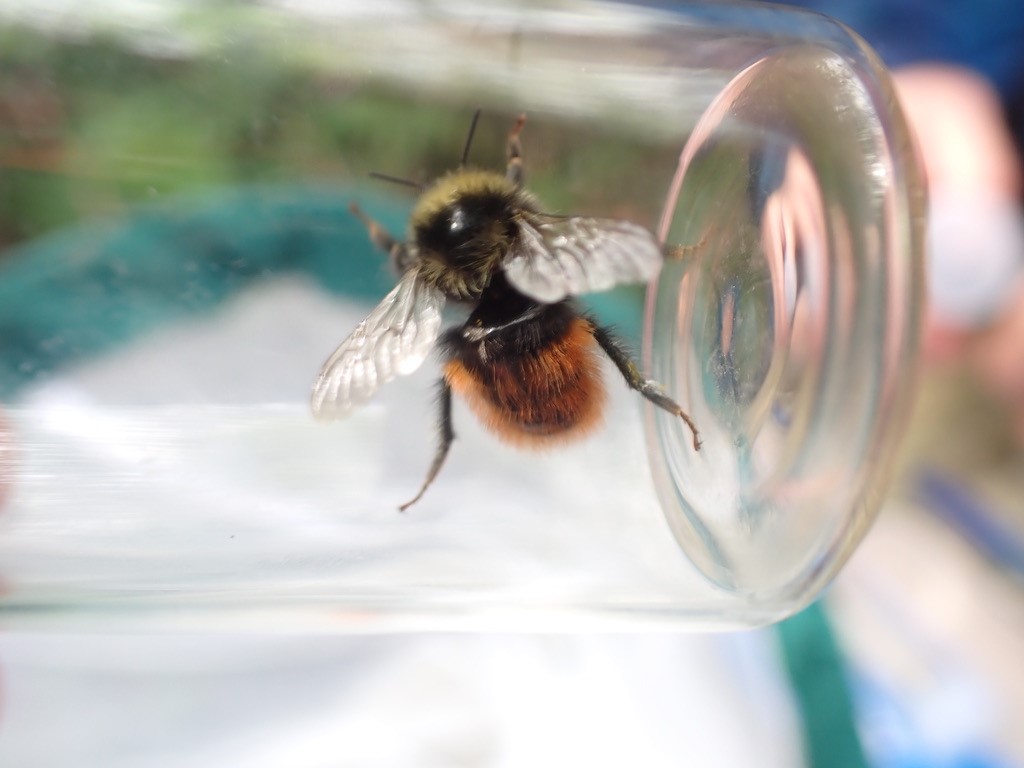 The Blaeberry or Bilberry Bumblebee (Bombus monticola), collected at BFT during a visit by the Edinburgh Entomology Club, is a distinctive bee species commonly associated with mountain and moorland habitats. Modern evidence shows a serious decline in the UK distribution for this species.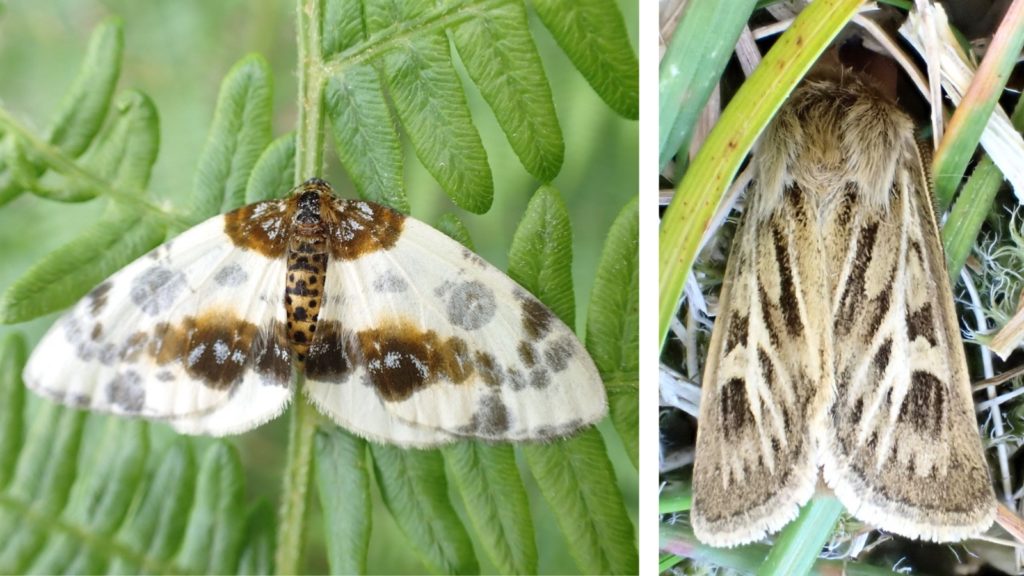 Supplementing the nine early butterfly species collected, a further 21 Lepidoptera species have been collected through regular moth trapping. For example the Antler Moth (Cerapteryx graminis) and Clouded Magpie Moth (Abraxas sylvata).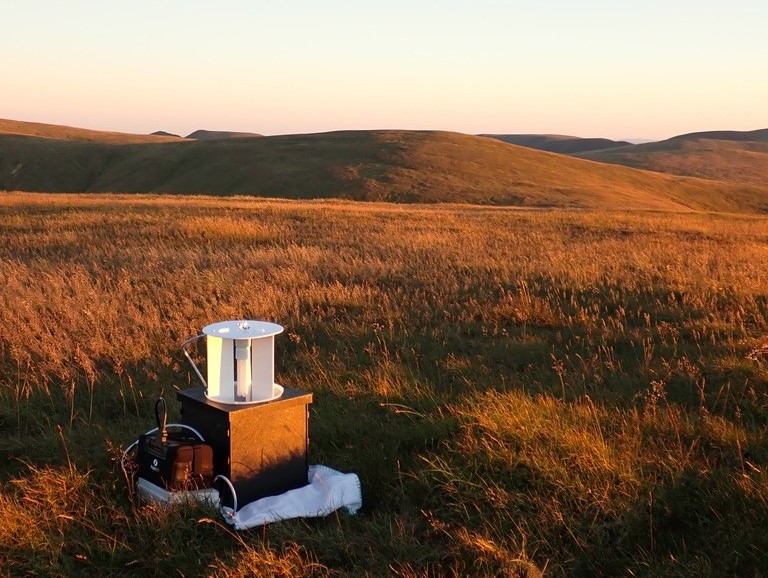 Bryophytes (mosses, liverworts & hornworts)
The impressive bryophyte flora of the Borders Forest Trust sites has been well recorded in the recent past, following survey work by David Long and Liz Kungu. These records have provided a solid foundation for targeted sampling of bryophyte species for DToL, with 100 bryophyte species from 49 different families collected to date.
Indeed, BFT proved to be an excellent source of material, particularly in the early days of DToL sampling, when travel restrictions limited the diversity of accessible sites.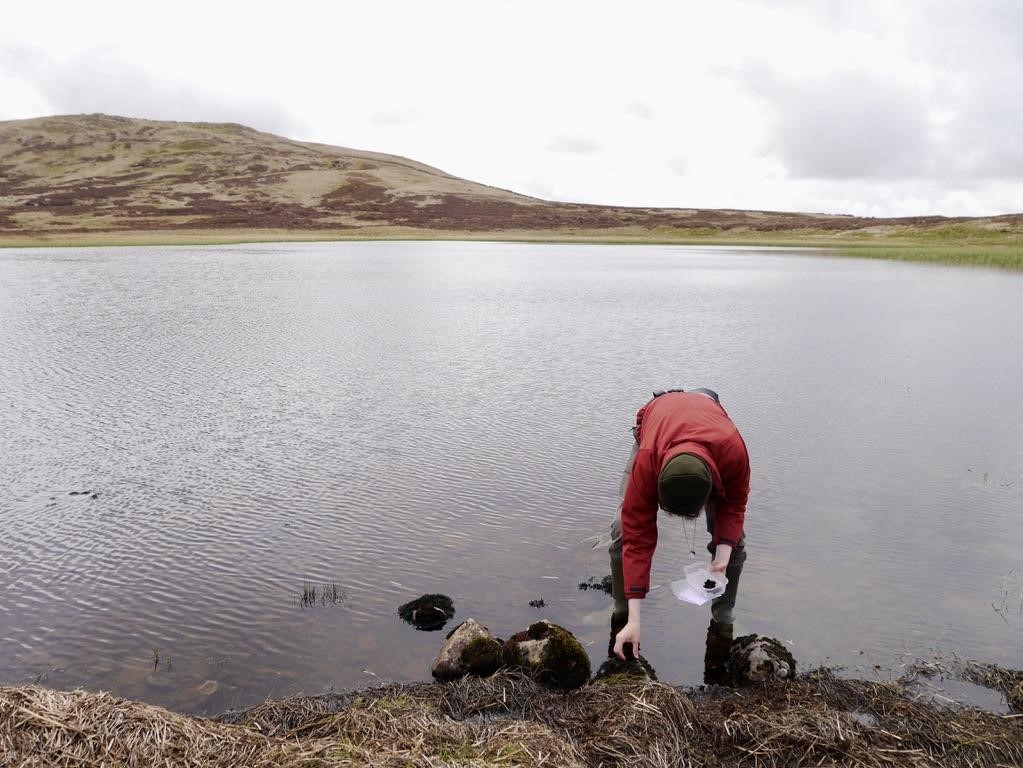 Collection highlights include the rare mosses Pseudobryum cinclidioides and Amphidium lapponicum, as well as strong populations of the moss Ptilium crista-castrensis and the leafy liverwort Anastrepta orcadensis, both rare in the Southern Uplands of Scotland. Several species of Sphagnum have also been collected, including S. angustifolium, S. contortum and S. medium.
Despite the bryophyte flora of BFT sites already being well-documented, sampling trips for DToL have nevertheless turned up new records for the sites, including Hylocomiastrum umbratum, Isothecium holtii, Lewinskya striata, Pleuridium subulatum and Stereodon callichrous.
| | | |
| --- | --- | --- |
| Amphidium lapponicum at Games Gill | Anastrepta orcadensis at March Sike | Hylocomiastrum umbratum |
| Isothecium holtii | Pseudobryum cinclidioides at Gameshope Loch | Ptilium crista-castrensis at Raven Craig |
| Sphagnum angustifolium | Sphagnum contortum | Sphagnum medium |
BIOSCAN for Flying Insects in the UK
In addition to Darwin Tree of Life sampling, Borders Forest Trust is collaborating on another biodiversity genomics project, BIOSCAN for Flying Insects in the UK, part of the International Barcode of Life initiative. 
Monthly malaise trapping at BFT sites is feeding into this project which will use simple DNA barcoding to study insect species diversity and interactions through time at up to 100 different sites across the UK. 
So far, more than 3,000 flying insects have been collected in malaise traps at BFT sites. These samples are now working their way through the DNA sequencing pipelines in the Wellcome Sanger Institute.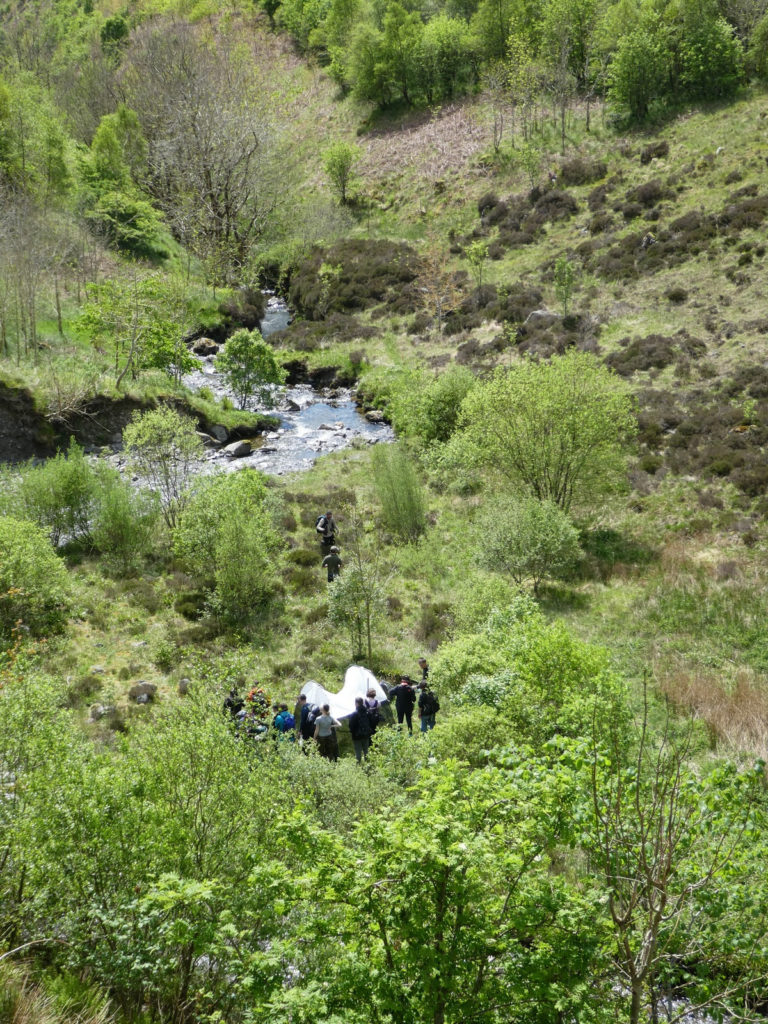 Both the Borders Forest Trust and Darwin Tree of Life are big projects, based on big dreams. It has taken many years for the trees planted by BFT across the Wild Heart of Southern Scotland to grow and make visible a truly landscape-scale impact. Similarly, the genomes being produced by the Darwin Tree of Life are the sprouting seedlings of a revolution in biodiversity science that is decadal in scale. Much of the inspirational success of the BFT's landscape scale restoration work is underpinned by the coordinated knowledge of naturalists and other experts along with the generous efforts of an enthusiastic community. These factors will also ultimately determine the success of large-scale biodiversity genomics projects such as the Darwin Tree of Life and BIOSCAN. 
Our collaboration with BFT provides a great example of how local groups and experts can contribute to ground breaking science and also demonstrates the input of the Darwin Tree of Life to our baseline knowledge of species distributions.
---
Additional writing by David Bell. Bryophyte photography by RBGE bryologists David Bell and David Long. Butterfly photography mostly by Sam Ebdon during University of Edinburgh fieldwork, with additional images via Luke Lythgoe (Wellcome Sanger Institute), Gerard Talavera (Institut Botanic de Barcelona), Gail Hampshire and Frank Vassen (Flickr).